F-14A TOMCAT VX-4 EVLUATORS VANDY 1 (Normal Version)
ماکت جنگنده F-14A نیروی دریایی ایالات متحده امریکا
بشماره 912380 جنگنده ناو هواپیمابر EVLUATORS VANDY
جنس: فلز
مقیاس: 1/144
شناسنامه: دارد
کشور سازنده: ژاپن (تولید محدود به 1000 عدد در سراسر جهان)
قیمت: 185.000 تومان
Century-Wings Concept
1-REAL
2-LIMITED
3-VALUABLE
The "Century Wings" range presents highly-detailed, ready-made diecast models of military aircraft.
We were born in Tokyo, Established 2006 Nov. The CENTURY WINGS range presents highly detailed as No.1quality ready-made diecast model of military aircraft.
Our mission is to get the No.1 position of all over the world.
aw.arts™ is the Signature of Century Wings productions 2014-2015.
1- کاملاً واقعی
2- تولید محدود
3- ارزشمند
"Century-Wings" تنها طیف ارائه شده بسیار دقیق از مدل های فلزی هواپیماهای نظامی در جهان میباشد.
هم اکنون CENTURY-WINGS تنها برد ارائه شده بسیار دقیق با استاندارد کیفی No.1quality در زمینه هواپیماهای نظامی در سرتاسر جهان میباشد.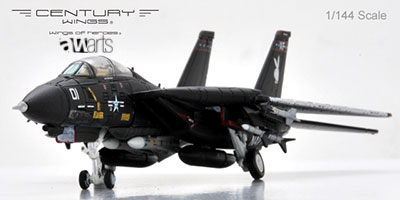 ابعاد: 16 در 16 سانتیمتر
نمونه ی حقیقی و کاملاً شبیه سازی شده از جنگنده اف 14
ناوگان ارتش ایالات متحده امریکا
همراه با پک کامل مهمات، خلبان و استند ناو هواپیمابر
با درجه استاندارد کیفی A+ از کمپانی گرومن ایالات متحده
قیمت: 185 هزار تومان (محدود)
جهت خرید با ما تماس بگیرید
wafi.alireza@gmail.com
2014 © aw.arts™ Corporation.Inc. All Rights Reserved.
از گروه :